Mini-Maroons Program Overview
Our Mini-Maroons program is for boys and girls born in 2014 (under 7) and will be offered in the Fall of 2020 & Spring of 2021. There are NO tryouts and ALL players are accepted. The program is designed to provide technical training and small-sided scrimmages to foster skill development and imaginative, creative play.
Mini-Maroons registration can be done via Ridgewood's CommunityPass platform. Visit CommunityPass > from organization select "Maroons Soccer Club" > from activity select your program. For help with registration, please contact Carolyn Muccio, maroonssoccer@yahoo.com.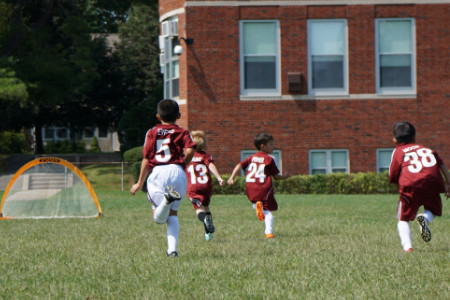 Mini-Maroons Program Details
Program is for boys and girls that were born in the year of 2014 with separate groups for boys and girls.
16 sessions with two training session and a scrimmage day each week
Includes uniform and ball
Each class will be 1 hour and taught by Professional MSC coaches
Class sizes are limited to maintain a high player-to-coach ratio
Players will need to wear shin guards and soccer boots (cleats
All participants must adhere to our safety guidelines

Schedule & Costs for Spring 2021
Program will run for 8 weeks (16 sessions) beginning the week of April 6th
Weekly training sessions on Tuesday and Thursdays from 2:30 – 3:30pm* at Glen School Field (865 E Glen Ave, Ridgewood, NJ)
Saturday small-sided scrimmages will be played between 9:00 – 11:30am at TBD field in Ridgewood
Cost: $350
*Times will be adjusted if Ridgewood schools return to full days
Mini-Maroons Training Details
Mini-Maroons (u7) soccer program continues to build from our successful Mini-Messi U4-U6 program.
The program's focus continues with a fun, technical training and simplified games-based program. Emphasis is "ball dominant" to maximize touches which builds player confidence and ability.  Simplified games foster technical skill development and imaginative, creative play. Aligned with the  Maroons Player Development Philosophy, players develop comfort controlling & manipulating the ball. 
The Saturday scrimmages will use the proven small-sided format of 3 players vs. 3 players, building to 4v4. This format best allows players to develop their abilities and gain an understanding of the game. Players will learn rules of the game, and gain an understanding of attack and defense, "seeing" the field, and be introduced to a team environment. This FUN program helps increase player interest and builds a foundation for players thinking about trying out for Maroons Soccer Club.